Well first of all this is my first time I think doing an entry that was given my Nuffnang. Thanks to them because had given me this opportunity this have this little chance to maybe win a 3D2N to Macau sponsored by
Macau Government Tourist Office (MGTO)
and
Nuffnang Malaysia
.
This won't be an easy competition because I am new in this blogging world, but if I did win this trip I would really have these amazing places that I really wanted to go. The first place that I would really wanted to go is a place where I could really see their culture. Culture in my opinion plays the biggest role in any country or place because culture is what makes one place had it uniqueness. One thing which is similar to my father's culture is a Chinese temple, so getting a chance to visit the
Na Tcha Temple
or the
Kuan Tai Temple
or maybe the
Lou Kau Mansion
would be amazing!!
Lou Kou Mansion, I wonder if there's any chinese zombie inside??? You know from the Chinese movie....
(GOOGLE Picture)
The second thing about why I wanted to go to Macau is the food. I am a food lover & yes I am picky about my food as I only like & love delicious foods! One of my favourite menu is the Chinese food which I really hope I could taste it at Macau. One thing for sure is the egg tart, I've saw it in the Astro Channel once about their egg tart! I gotta have it & maybe tapau a bit back home!
Doesn't it looks just yummeyyy!!!(Nuffnang Picture)
The third thing about going to Macau was the beautiful danger of Bungee Jumping! I've got my to do list where one of it was the Bungee jumping! Being big a.k.a fat doesn't stop me from doing what others can do!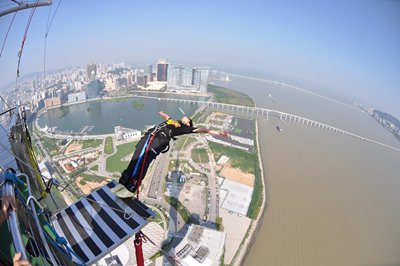 Get this from Google. But if I've win this trip, the next time I did an entry about this, the picture would be me myself in it! Hahaha